Fairchild UC-61/J2K Forwarder
---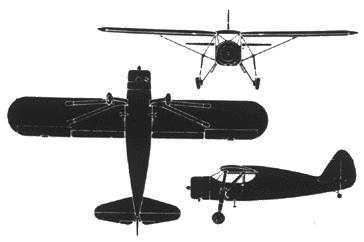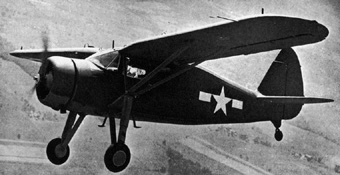 The Kreider-Reisner Company of Hagerstown, Maryland, was renamed the Fairchild Aircraft Company in 1935. Its Model 24-C three-seat touring airplane was first produced in 1933. Various modifications led to the -24R and -24W models, produced in 1939. The 24W-41 was developed for service with the USAAC as the UC-61 Forwarder, but, of 163 built, only 2 were retained. The rest were supplied to the United Kingdom under lend-lease and were known as the Argus I. It was adopted as the Air Transport Auxiliary's sta ndard transport for the carriage of ferry pilots. A further 512 UC-61As were built to a USAAC order, with 364 of these going to the U.K. as Argus IIs. A number of civil models were also impressed into Army Air Corp service in 1942, designated UC-61B to UC-61J. The U.S. Navy use of the Fairchild 24 was limited to two J2K-1s and two J2K-2s acquired for the U.S. Coast Guard in 1936. A further 13 24W-40s were acquired by the Navy in 1940 and 1942 for instrument training and personnel transport under the design ation GK-1.
Additional information on this aircraft can be found at Wikipedia here.
(updated February 2009)

Fairchild UC-61 Forwarder

Type:		liason & communication aircraft/instrument trainer
Crew:		4
Armament:	none

Specifications:
	Length:        	23' 9" (7.24 m)
	Height:        	7' 7.5" (2.32 m)
	Wingspan:      	36' 4" (11.07 m)
	Wing area:	193.3 sq. ft (17.96 sq. m)
	Empty Weight:  	1613 lb (732 kg)
	Max Weight: 	2562 lb (1162 kg) max at takeoff

Propulsion:
	No. of Engines:	1
	Powerplant:    	Warner R-500 Super Scarab radial
	Horsepower:	165 hp

Performance:
	Range:		640 miles (1030 km)
	Cruise Speed:   117 mph ( 188 km/h)
	Max Speed:      132 mph ( 212 km/h)
	Ceiling:       	15,700 ft (4785 m)


If this page does not have a navigational frame on the left, click HERE to see the rest of the website.