Curtiss AT-9 Jeep
---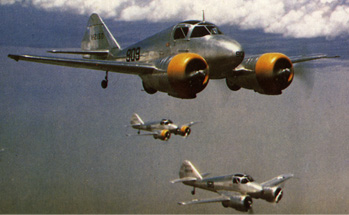 The AT-9 was developed by Curtiss as a training aircraft that would aid in a trainee's transition to a a high performance twin-engined bomber. Known initially as the Model 25, the aircraft was ordered into production as the AT-9. 491 examples were built for the USAAC, with 300 more examples of the generally similar AT-9A also being produced. They remained in use for a comparatively short time, for with the U.S. entry in the war in late 1941, far more effective training aircraft were soon developed.
Additional information on this aircraft can be found at Wikipedia here.
(updated February 2009)



Curtiss AT-9 Jeep

Type:		advanced trainer
Crew:		2
Armament:	none

Specifications:
	Length:        	31' 8" (9.65 m)
	Height:        	9' 10" (2.99 m)
	Wingspan:      	40' 4" (12.99 m)
	Wing area:	233 sq. ft (21.65 sq. m)
	Empty Weight:  	4600 lb (2087 kg)
	Max Weight: 	6000 lb (2722 kg) max at takeoff

Propulsion:
	No. of Engines:	2
	Powerplant:    	Lycoming R-680-9 radial
	Horsepower:	295 hp each

Performance:
	Range:		750 miles (1207 km)
	Cruise Speed:   175 mph ( 282 km/h)
	Max Speed:      197 mph ( 317 km/h)
	Ceiling:       	(not listed)


If this page does not have a navigational frame on the left, click HERE to see the rest of the website.