Kellett KD-1 and YO-60 autogyros
---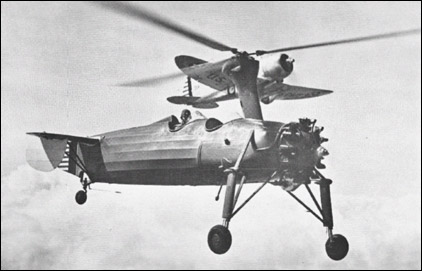 Kellet KD-1 autogyro


Kellet YO-60 autogyro
The Kellett KD-1 was a 1930s American autogyro built by the Kellett Autogiro Company. It had the distinction of being the first practical rotary-wing aircraft used by the United States Army and inaugurated the first scheduled air-mail service using a rotary-wing aircraft. It had two open cockpits, a fixed tailwheel landing gear and was powered by a 225hp (168kW) Jacobs L-4 radial engine. After testing of the prototype a commercial variant designated the KD-1A was put into production. The KD-1A had a three-bladed rotor with folding blades and a number of minor detail improvements. In 1935 the United States Army bought a KD-1 for evaluation and designated it the YG-1, a second aircraft followed which had additional radio equipment and was designated the YG-1A. These two aircraft were followed by a batch of seven designated YG-1B. In 1942 seven more were bought for use in the observation role as the XO-60. Six XO-60s were re-engined with 300hp (224kW) Jacobs R-915-3s and re-designated YO-60. One YG-1B was modified with a constant-speed rotor and was re-designated the YG-1C, it was later re-engined with the more powerful R-915 and re-designated again as the XR-2. The XR-2 was destroyed by rotor ground resonance problems and the evaluation was continued with another modified YG-1B designated the XR-3.
Thanks to Wikipedia for the above info. Additional information on this aircraft can be found at Wikipedia here.
(updated October 2010)

Kellett XO-60 autogyro

Type:		two-seat Observation autogyro
Crew:		2
Armament:	none

Specifications:
	Length:        	28 ft 10 in (8.79 m)
	Height:        	n/a 
	Empty Weight:  	n/a
	Max Weight: 	n/a

Propulsion:
	No. of Engines:	1
	Powerplant:    	Jacobs R-915-3 radial
	Horsepower:	300 hp

Performance:
	Range:		n/a
	Cruise Speed:   n/a
	Max Speed:      n/a
	Ceiling:       	n/a


If this page does not have a navigational frame on the left, click HERE to see the rest of the website.