Martin B-10/B-12
---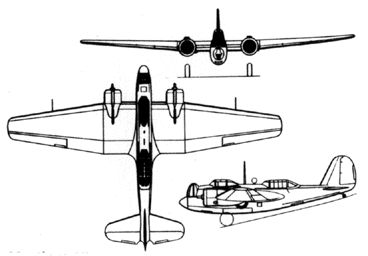 After failing in a number of bomber design competitions in the 1930s, the Glenn L. Martin company designed and built an advanced bomber project as a private venture. This aircraft was known as the Martin 123, and when tested by the U.S. Army in 1932 it was given the experimental designation XB-907. After modifications (which included better engines and the installation of a front gun turret, the first to be installed in a U.S. bomber) this aircraft proved to be faster than any of the U.S. fighters of the time. In 1933 the Army contracted for 48 aircraft to be built under the designation XB-10. The production version (Martin 139) began to enter service in 1934. This all-metal monoplane bomber carried a crew of four or five in three separate cockpits. It remained in service with the USAAC until it was replaced by Boeing B-17d and Douglas B-18s in the late 1930s. 189 examples were built for export, with 120 going to the Netherlands East Indies. These were amongst the first U.S.-built bombers to see operational service at the beginning of WWII.
For more data and history on this aircraft, click here for Joe Baugher's webpage.
USAF archives on this aircraft, click here.
Additional information on this aircraft can be found at Wikipedia here.
(updated February 2009)



Martin B-10/B-12
Type:		light bomber
Crew:		4-5
Armament: 	three .30 inch machine guns in nose (1 each
			in the nose and rear turrets,
			1 in ventral gun position)
		up to 2,260 lbs. of bombs


Specifications:
	Length:        	44' 9" (13.64 m)
	Height:        	15' 5" (4.70 m)
	Wingspan:      	70' 6" (21.49 m)
	Wing area:	678 sq. ft (62.99 sq. m)
	Empty Weight:  	9,681 lb (4391 kg)
	Max Weight: 	16,400 lb (7439 kg) max at takeoff

Propulsion:
	No. of Engines:	2
	Powerplant:    	Wright R-1820-33 Cyclone 9 radial
	Horsepower:	775 hp each

Performance:
	Range:		1240 miles (1996 km)
	Cruise Speed:   193 mph ( 311 km/h)
	Max Speed:      213 mph ( 343 km/h) at 6,000 ft
	Ceiling:       	24,200 ft (7375 m)


If this page does not have a navigational frame on the left, click HERE to see the rest of the website.