Beechcraft Model 18/UC-45 Expeditor
(also AT-7 Navigator/AT-11 Kansan/F-2/JRB/SNB)
---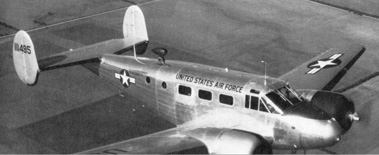 The USAAC first ordered this type of aircraft in 1940 under the designation C-45, for use as a staff transport. These aircraft were re-designated UC-45s in 1943. Other variants included the AT-7 Navigator, introduced in 1941 for navigator training. This had a dorsal astrodome and positions for three trainees. Some 577 of these were built. 1941 also saw the introduction of the AT-11 Kansan, which was a bombing/gunnery trainer. Production of the AT-11 totaled 1,582, and included 36 examples completed as the AT-11A navigation trainer. Another Model 18 variant was the F-2 photo-reconnaissance model, of which 69 examples were acquired. The U.S. Navy and Marine Corps also procurred the Model 18, with a total of over 1,500 examples. The JRB-1 was the equivalent of the F-2, the JRB-2 was a transport, and the JRB-3 and -4 were the equivalent of the UC-45. The SNB-1, -2, & -3 were the equivalents of the AT-11, -7, and -7C, respectively. The F-2 was yet another variant of the Model 18 that was built to carry two to four aerial cameras and used for reconnaissance and aerial mapping. Only about 70 of the F-2 models were built. Other variants of the Model 18 included an air ambulance and a electronics countermeasure trainer.
USAF archives on this aircraft, click here.
Additional information on this aircraft can be found at Wikipedia here.
(updated February 2009)

Beechcraft UC-45 Expeditor
Type:           navigation and bombing trainer
Crew:           ?, plus 3 trainees
Armament:       none

Specifications:
        Length:         34' 2" (10.41 m)
        Height:         9' 8" (2.95 m)
        Wingspan:       47' 8" (14.53 m)
        Wing area:      349 sq. ft (32.42 sq. m)
        Empty Weight:   6175 lb (2801 kg)
        Max Weight:     8727 lb (3959 kg) max at takeoff

Propulsion:
        No. of Engines: 2
        Powerplant:     Pratt & Whitney R-985-AN-1 radial
        Horsepower:     450 hp

Performance:
        Range:          850 miles (1368 km)
        Cruise Speed:   (not listed)
        Max Speed:      215 mph ( 346 km/h)
        Ceiling:        20000 ft (6095 m)


If this page does not have a navigational frame on the left, click HERE to see the rest of the website.