Northrop P-61 Black Widow
---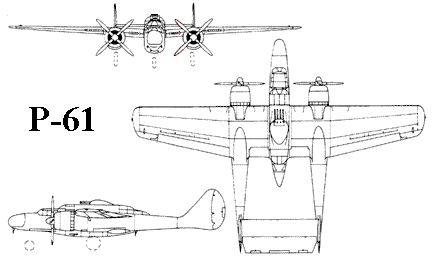 The P-61 has the distinction of being the first US aircraft to be designed as a night fighter. Sporting two engines and twin booms like the P-38 Lightning, the Black Widow was massive for a fighter. Despite teething problems with its radar, the P-61 proved to be a very versatile and effective weapon. A photographic reconnaissance version was also created, and was known as the F-15 Reporter.
For more data and history on this aircraft, click here for Joe Baugher's webpage.
USAF archives on this aircraft, click here.
To see books about this aircraft on Amazon.com, click here.
Additional information on this aircraft can be found at Wikipedia here.
(updated February 2009)

Northrop P-61 Black Widow
Type:           Fighter
Crew:           3
Armament:       four 20mm cannon,
                four .50 cal machine guns in optional dorsal turret

Specifications:
        Length:         49' 7" (15.11 m)
        Height:         14' 8" (4.47 m)
        Wingspan:       66' (20.12 m)
        Gross Weight:   35853 lbs (16260 kg)
        Max Weight:     35855 lbs (16260 kg)

Propulsion:
        No. of Engines: 2
        Powerplant:     Pratt & Whitney R-2800
        Horsepower:     2100 hp each

Performance:
        Range:          1200 miles (1932 km)
        Cruise Speed:   275 mph (442 km/hr)
        Max Speed:      425 mph (684 km/hr)
        Ceiling:        46200 ft (14081 m)
---
CLICK HERE TO SEE BOOKS ON THE P-61 ON AMAZON.COM
If this page does not have a navigational frame on the left, click HERE to see the rest of the website.