Fleetwings BT-12
---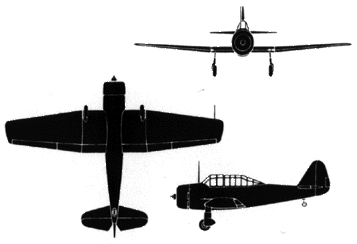 At the beginning of WWII the U.S. found itself badly in need of aircraft, especially training aircraft. The company of Fleetwings, Inc. was given the task of building a basic trainer for the USAAF under the designation BT-12. It was a conventional low-wing monoplane with fixed gear and dual fully-functional cockpits. The unconventional feature of the BT-12 lay in its construction, which in large part was of stainless steel (not aluminum). Fabrication was almost entirely of spot or seam welding. In addition to the initial prototype, 24 examples were produced and delivered during 1942-43.
Additional information on this aircraft can be found at Wikipedia here.
(updated February 2009)

Fleetwings BT-12

Type:		two-seat basic trainer
Crew:		2: pilot, trainee
Armament: 	none

Specifications:
	Length:        	29' 2" (8.89 m)
	Height:        	8' 8" (2.64 m)
	Wingspan:      	40' 0" (12.19 m)
	Wing area:	240.4 sq. ft (23.33 sq. m)
	Empty Weight:  	3173 lb (1439 kg)
	Max Weight: 	4410 lb (2000 kg) max at takeoff

Propulsion (N3N-3):
	No. of Engines:	1
	Powerplant:    	Pratt & Whitney R-985-25 Junior Wasp radial
	Horsepower:	450 hp

Performance:
	Range:		550 miles (885 km)
	Cruise Speed:   175 mph ( 282 km/h)
	Max Speed:      195 mph ( 314 km/h)
	Ceiling:       	23,800 ft (7255 m)


If this page does not have a navigational frame on the left, click HERE to see the rest of the website.