Brewster F2A Buffalo
---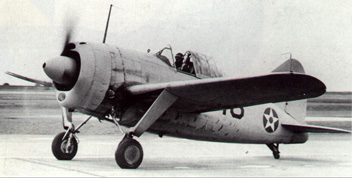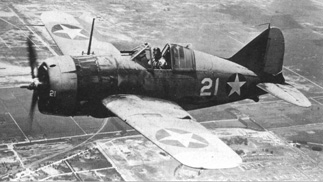 The Buffalo is known for its portly barrel shape and its poor performance. The only major action in U.S. hands was at the battle of Midway, where its Marine pilots suffered heavy casualties against the more nimble Japanese Zeros. Afterwards, Buffalos were replaced by F4F Wildcats, and were relegated to second-line duties.
For more data and history on this aircraft, click here for Joe Baugher's webpage.
For additional data and history on the F2A, click here for Jack McKillop's article on Microworks.net.
Additional information on this aircraft can be found at Wikipedia here.
(updated February 2009)

Brewster F2A-3 Buffalo
Type:           Fighter
Crew:           1, Pilot
Armament:       four .50 cal machine guns

Specifications:
        Length:         26' 4" (83 m)
        Height:         12' 0" (3.66 m)
        Wignspan:       35' 0" (10.67 m)
        Wingarea:       209  sq. ft (19.41 sq.  m)
        Empty Weight:   4732 lbs (2146 kg)
        Gross Weight:   7159 lbs (3246 kg)

Propulsion:
        No. of Engines: 1
        Powerplant:     Wright R-1820-40
        Horsepower:     1200 hp

Performance:
        Range:          965 miles (1553 km)
        Cruise Speed:   161 mph (259 km/hr)
        Max Speed:      321 mph (516 km/hr)
        Climb:          2290 ft/min (697.96 m/min)
        Ceiling:        33200 ft (10119 m)


If this page does not have a navigational frame on the left, click HERE to see the rest of the website.