Budd C-93/RB-1 Conestoga
---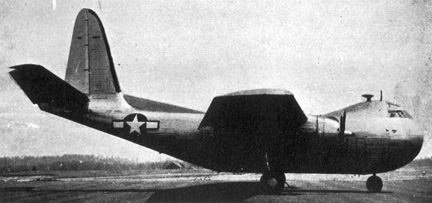 The Budd C-93 Conestoga was the first aircraft of original design to be fabricated entirely of shotwelded stainless steel. It was designed to meet a U.S. Navy specification for a twin-engined cargo carrier and troop transport. The Army version was known as the C-93, but the initial order was canceled due to delays caused by manufacturing problems. The Navy version was designated the RB-1, but only 25 of the initial 200 ordered were delivered before cancellation of that order.
For additional data and history on the RB-1, click here for Jack McKillop's article on Microworks.net.
Additional information on this aircraft can be found at Wikipedia here.
(updated February 2009)


Budd C-93/RB-1 Conestoga
Type:		transport
Crew:		?
Armament:	none

Specifications:
	Length:        	68' 0 (20.7 m)
	Height:        	31' 9" (9.68 m)
	Wingspan:      	100' 0" (30.5 m)
	Wing area:	1400 sq. ft. (130 sq. m)
	Empty Weight:  	20,156 lb (9,150 kg.)
	Weight loaded: 	33,860 lb (15,372 kg)

Propulsion:
	No. of Engines:	2
	Powerplant:    	Pratt & Whitney R-1830-92 Twin Wasp radial
	Horsepower:	1200 hp each

Performance:
	Range:		1620 miles (2590 km)
	Cruise Speed:   165 mph (264 km/h)
	Max Speed:      197 mph (315.2 km/h)at 7500 ft
	Ceiling:       	(not listed)


If this page does not have a navigational frame on the left, click HERE to see the rest of the website.