Grumman F4F-3S "Wild Catfish"
---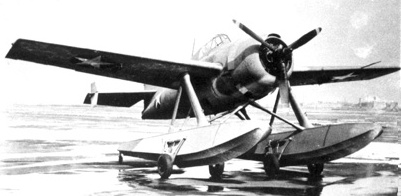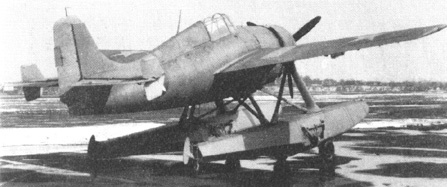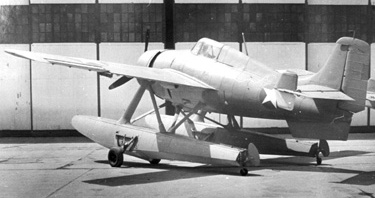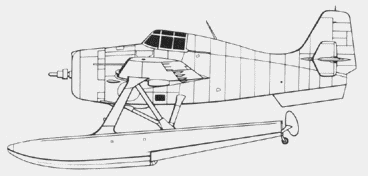 Due to the successful use of fighter seaplanes by Japanese forces in the Pacific, in 1942 Grumman experimented with a new development of its F4F-3 Wildcat, in the creation of a floatplane version of this fighter. The conversion of a standard production aircraft was undertaken by Edo Corporation in the space of three months from the Navy request being made; the floats themselves were specially designed for the "Wild Catfish", as this prototype became known, and the entire airframe was subjected to stress analysis and some strengthening. To compensate for the decreased yaw stability resulting from the extra side area of the floats forward of the aircraft center of gravity, additional rudder area was required, and this was provided by fitting small additional surfaces at the tips of the tailplane, with an interconnection with the main rudder. The F4F-3 floatplane, sometimes referred to as the F4F-3S, first flew on February 28, 1943 and under Navy contract Edo provided 100 sets of floats in great haste, but the changing nature of the war in the Pacific made it unnecessary to proceed with further floatplane conversions, and the project was canceled.
Additional information on this aircraft can be found at Wikipedia here.
(updated February 2009)

Grumman F4F-3S Wild Catfish
Type:           Fighter
Crew:           1, Pilot
Armament:       six .50 cal machine guns

(NOTE: stats are unavailable for the F4F floatplane,
data if listed is for standard F4F)

Specifications
        Length:         N/A
        Height:         N/A
        Wingspan:       38' (11.58 m)
        Wing area:      259.97 sq. ft (24.15 sq. m)
        Empty Weight:   N/A
        Gross Weight:   N/A
        Max Weight:     N/A

Propulsion
        No. of Engines: 1
        Powerplant:     Pratt & Whitney R-1830-36 Twin Wasp
        Horsepower:     1200 hp

Performance
        Range:          N/A
        Cruise Speed:   N/A
        Max Speed:      N/A
        Climb:          N/A
        Ceiling:        N/A


Information from "US Navy and Marine Corps Fighters"
by William Green and Gordon Swanborough
(made available by San Diego Aerospace Museum library)
Additional photos from archives of San Diego Aerospace Museum
If this page does not have a navigational frame on the left, click HERE to see the rest of the website.