Waco CG-4A
---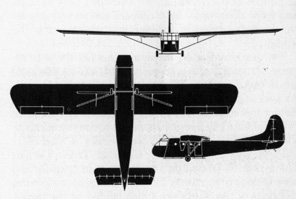 Considered to be very suitable as a troop/cargo glider, the CG-4A could carry 13 troops, or cargo loads that could include a Jeep with a crew of four plus equipment, or a 75mm howitzer with its guncrew of three, ammunition, and supplies. The first examples of the CG-4A began to enter service with the US Army Air Corps during 1942, with production reaching its peak in 1942-43. CG-4As were used in the invasion of Sicily, Chindit actions in Burma, the invasion of Normandy and southern France, at Arnhem, and during the Rhine crossings. They were also used by the RAF, but only operationally at Sicily.
Additional information on this aircraft can be found at Wikipedia here.
(updated February 2009)

Waco CG-4A

Type:           troop-carrying glider
Crew:           2 crew, and 13 troops
Armament:       none

Specifications:
        Length:         48' 8" (14.83 m)
        Height:         12' 7" (3.84 m)
        Wingspan:       83' 8" (25.50 m)
        Wing area:      852 sq ft. (79.15 m squared)
        Empty Weight:   3700 lb (1678 kg)
        Max Weight:     9000 lb (4082 kg) max at takeoff

Performance:
        Max towing speed: 150 mph ( 241 km/h)
        Normal tow speed: 120 mph ( 193 km/h)


If this page does not have a navigational frame on the left, click HERE to see the rest of the website.