Fairchild PT-19 Cornell
---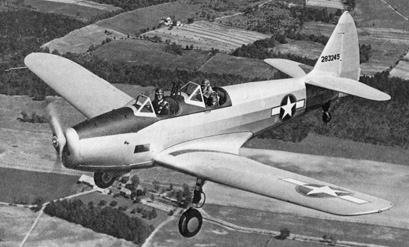 The PT-19 Cornell was designed to be a more advanced primary trainer, in that it had many of the same characteristics of the Boeing/Stearman PT-13, but had a wing-loading factor that was about 43% more than the PT-13. In this way the PT-19 provided the USAAC pilots with a trainer that more like the fighters they would eventually fly, rather than the older biplanes. Other advantages were that the Cornell had instruments for blind-flying, and could be fitted with a hood over the front cockpit for blind-flying training. 774 examples were built by Fairchild, with another 143 being built by Aeronca.
Additional information on this aircraft can be found at Wikipedia here.
(updated February 2009)

Fairchild PT-19 Cornell

Type:           two-seat primary trainer
Crew:           2
Armament:       none

Specifications:
        Length:         27' 8.5" (8.45 m)
        Height:         7' 7.5" (2.97 m)
        Wingspan:       36' 0" (10.97 m)
        Wing area:      200 sq. ft (18.58 sq. m)
        Empty Weight:   2022 lb (917 kg)
        Max Weight:     2736 lb (1241 kg) max at takeoff

Propulsion:
        No. of Engines: 1
        Powerplant:     Ranger L-440-C5 inline
        Horsepower:     200 hp

Performance:
        Range:          400 miles (644 km)
        Cruise Speed:   101 mph ( 163 km/h)
        Max Speed:      122 mph ( 196 km/h) at 9000 ft
        Ceiling:        13,200 ft (4025 m)


If this page does not have a navigational frame on the left, click HERE to see the rest of the website.