Douglas DC-2
(also: C-32, C-33, C-34, C-38, C-39, C-41, C-42, R2D-)
---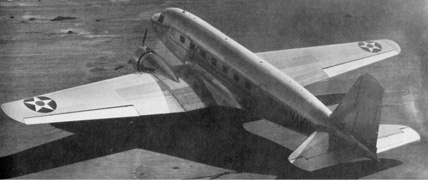 Designed to meet TWA requirements for a new airliner, the DC-1 (which evolved into the DC-2) made its first flight in 1933. Twenty-five examples of the DC-2 were made for TWA in 1934, with examples being procured by the U.S. Navy (as the R2D-1) and the Army Air Corps. USAAC DC-2's were designated XC-32, C-33, C-38, and C-39. The DC-2s in military service were used extensively, especially in the early years of World War II. They are remembered especially for their role in carrying U.S. survivors from the Phillipines to Australia in December 1941.
For additional data and history on the R2D, click here for Jack McKillop's article on Microworks.net.
USAF archives on the this aircraft, click here.
Additional information on this aircraft can be found at Wikipedia here.
(updated February 2009)

Douglas DC-2
Type:		18-seat cargo and passenger transport
Crew:		2
Armament: 	none

Specifications:
	Length:        	61' 6" (18.75 m)
	Height:        	18' 8" (5.69 m)
	Wingspan:      	85' 0" (25.91 m)
	Wing area:	939 sq. ft (87.23 sq. m)
	Empty Weight:  	14,729 lb (6681 kg)
	Max Weight: 	21,000 lb (9525 kg) max at takeoff

Propulsion:
	No. of Engines:	2
	Powerplant:    	Wright R-1820-55 radial
	Horsepower:	975 hp

Performance:
	Range:		900 miles (1448 km)
	Cruise Speed:   155 mph ( 249 km/h)
	Max Speed:      210 mph ( 338 km/h) at 5000 ft
	Ceiling:       	20,600 ft (6280 m)


If this page does not have a navigational frame on the left, click HERE to see the rest of the website.