Douglas BTD Destroyer
---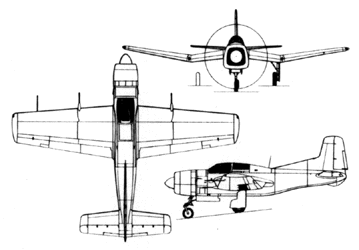 The war in the Pacific showed the success of the Douglas Dauntless dive bomber. The U.S. Navy was looking ahead for a replacement, leading to the development of an advanced two-seat dive bomber called the Destroyer that took its first flight in 1943. It was the first U.S. Navy carrier aircraft to have tricycle landing gear. It was soon modified for the new role of a single-seat torpedo/dive-bomber, with a 1943 contract increasing orders to 358 examples. Deliveries of production aircraft began in June 1944, but only 28 had been delivered before contract cancellation was initiated on VJ-Day. The Destroyer's performance was disappointing and, so far as is known, the type was not used operationally.
Additional information on this aircraft can be found at Wikipedia here.
(updated February 2009)

Douglas BTD Destroyer

Type:		torpedo/dive-bomber
Crew:		1
Armament:	two 20mm cannon in wings
		one torpedo or
		up to 3200 lbs. of bombs in internal bay

Specifications:
	Length:        	38' 7" (11.76 m)
	Height:        	13' 7" (4.14 m)
	Wingspan:      	45' 0" (13.72 m)
	Wing area:	373 sq. ft (34.65 sq. m)
	Empty Weight:  	11,561 lb (5244 kg)
	Max Weight: 	19,000 lb (8618 kg) max at takeoff

Propulsion:
	No. of Engines:	1
	Powerplant:    	Wright R-3350-14 Cyclone 18 radial
	Horsepower:	2300 hp

Performance:
	Range:		1480 miles (2382 km)
	Max Speed:      334 mph ( 554 km/h) at 16,100 ft
	Ceiling:       	23,600 ft (7195 m)


If this page does not have a navigational frame on the left, click HERE to see the rest of the website.