Lockheed Model 10-A Electra
---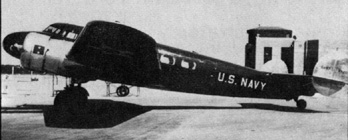 Lockheed Electras were used as light transports by the U.S. Navy, Coast Guard, and USAAC. One was used as the personal transport of the Secretary of the Navy, another by the Secretary of the Treasury, and another by the National Guard Bureau. In 1942 26 Electras were impressed from civilian duties for communication duties, under the designation UC-36.
USAF archives on this aircraft, click here.
Additional information on this aircraft can be found at Wikipedia here.
(updated February 2009)

Lockheed Model 10-A Electra / UC-36

Type:		light transport aircraft
Crew:		6-7
Armament:	two 0.50 inch machine guns
		up to 2,000 lbs. of bombs

Specifications:
	Length:        	38' 7" (11.76 m)
	Height:        	10' 1" (3.07 m)
	Wingspan:      	55' 0" (16.76 m)
	Wing area:	458.3 sq. ft (42.58 sq. m)
	Empty Weight:  	7100 lb (3221 kg)
	Max Weight: 	10,500 lb (4763kg) max at takeoff

Propulsion:
	No. of Engines:	2
	Powerplant:    	Pratt & Whitney R-985-13 Wasp Junior radial
	Horsepower:	450 hp each

Performance:
	Range:		666 miles (1072 km)
	Cruise Speed:   194 mph ( 312 km/h)
	Max Speed:      201 mph ( 323 km/h) at 5000 ft
	Ceiling:       	24,000 ft (7315 m)


If this page does not have a navigational frame on the left, click HERE to see the rest of the website.