Fairchild JK
---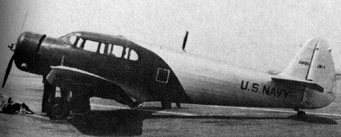 In 1936 the U.S. Navy acquired a single example of the five-seat Fairchild Model 45, for use primarily as a staff transport for more senior officers, but also for general communication duties. This aircraft was given the designation JK. It was a typical light transport aircraft of the 1930s, having a cantilever low-wing monoplane, and a fabric-covered welded-steel tube body. In early 1942, when civil aircraft were impressed to serve with the U.S. armed forces (until the U.S. industry had geared itself up to large-scale production), the U.S. Navy acquired two additional examples of the Model 45. These were designated JK-1, and were used for general communication and transport duties.
Additional information on this aircraft can be found at Wikipedia here.
(updated February 2009)



Fairchild JK

Type:		transport/communication aircraft
Crew:		5
Armament:	none

Specifications:
	Length:        	30' 3" (9.22 m)
	Height:        	8' 0" (2.44 m)
	Wingspan:      	39' 6" (12.04 m)
	Wing area:	248 sq. ft (23.04 sq. m)
	Empty Weight:  	2512 lb (1139 kg)
	Max Weight: 	4000 lb (1814 kg) max at takeoff

Propulsion:
	No. of Engines:	1
	Powerplant:    	Wright R-760-E2 Whirlwind 7 radial
	Horsepower:	320 hp

Performance:
	Range:		840 miles (1352 km)
	Cruise Speed:   164 mph ( 264 km/h)
	Max Speed:      170 mph ( 274 km/h)
	Ceiling:       	19,000 ft (5790 m)


If this page does not have a navigational frame on the left, click HERE to see the rest of the website.