Douglas C-74 Globemaster
---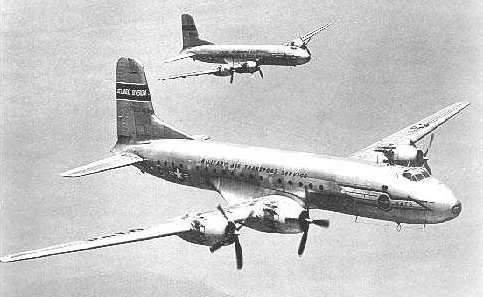 The C-74 Globemaster was a long range heavy transport aircraft built by Douglas Aircraft. It was a greatly enlarged development of the DC-4. Initially the C-74 also used the DC-7 designation, but that was reused later for a commercial type. The initial contract for 50 aircraft was placed in 1942, though the end of the war caused the number completed to be cut to 14. Of the 14 Globemasters built, 12 were delivered to the USAAF between October 1945 and April 1947. One C-74 crashed during flight testing, and one was used for destructive load testing. The first flight occured on September 5th, 1945. When the C-74 eventually went into service it was the largest land-based transport in the world. It was designed to carry 125 troops or up to 48,000 lbs of cargo. The use of the C-74 during the Berlin airlift convinced the USAAF of the need for an advanced cargo aircraft, and Douglas went on to develop the larger C-124 Globemaster II from the Globemaster I program. The C-74 remained in service until 1959.
For additional data and history on the C-74, click here for the C-74 webpage on The Aviation Zone.
Click here for a webpage with a long text history on the C-74.
Click here for a webpage with seven C-74 images.
Additional information on this aircraft can be found at Wikipedia here.
(updated February 2009)

Douglas C-74 Globemaster
Type:		Military transport
Crew:		4 or 5
Armament: 	none

Specifications:
	Length:		124' 2" (37.85 m)
	Height:		43' 9" (13.34 m)
	Wingspan:	173' 3" (52.81 m)
	Wing area:	987 sq. ft (91.69 sq. m)
	Empty Weight: 	? lbs (39087 kg)
	Takeoff Weight:	165,000 lbs (78018 kg) maximum

Propulsion:
	No. of Engines:	4
	Powerplant: 	Pratt & Whitney R-4360-27 radials
	Horsepower:	3000 hp each

Performance:
	Range:		7,200 miles (12550 km)
	Cruise Speed: 	260 mph
	Max Speed:	312 mph
	Climb:		1130 ft/min (345 m/min)
	Ceiling:	30,000 ft (6645 m) 
If this page does not have a navigational frame on the left, click HERE to see the rest of the website.