Lockheed A-28/A-29 Hudson
also: AT-18, and Navy PBO-1
---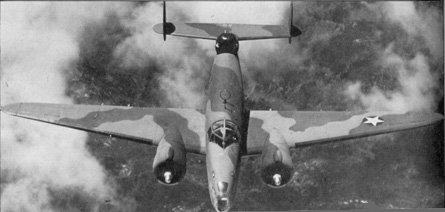 The Lockheed Hudson was the first American aircraft to be used operationally by the RAF during World War II. It was designed to meet a British requirement for a martime patrol/navigational trainer aircraft. The first 200 aircraft arrived in England in February 1939, with about 1500 total procured before introduction of the Lend-Lease program. In USAAF service the various versions served as troop transports, bomber crew trainers, photo-reconnaissance aircraft, anti-submarine patrol aircraft, trainers for air gunners, and as a target tug. Twenty examples were used by the U.S. Navy as maritime patrol aircraft under the designation PBO-1. The Lockheed AT-18 was an advanced trainer based on the Lockheed Hudson. The USAAF placed an order for 300 AT-18s on 8 May 1942. 217 aircraft were produced as AT-18-LO gunnery trainers, equipped with a Martin dorsal turret armed with twin 0.50in machine guns, while the remaining 83 aircraft were produced as AT-18A-LO navigational trainers. These aircraft had the turret removed and had space for the pilot, the instructor and three students. In all, over 2500 Hudsons were built, and many remained in service in a secondary role until the end of the war.
For more data on this aircraft, click here for Joe Baugher's webpage.
USAF archives on this aircraft, click here.
For additional data and history on the PBO-1, click here for Jack McKillop's article on Microworks.net.
For more photos, history, and info on the PBO-1, see the PBO-1 webpage at vpnavy.com
Additional information on this aircraft can be found at Wikipedia here.
(updated February 2009)

Lockheed A-28/A-29 Hudson
Type:		maritime patrol bomber
Crew:		?
Armament:	five 0.30 inch machine guns
		up to 1,600 lbs. of bombs

Specifications:
	Length:        	44' 4" (13.51 m)

	Height:        	11' 11" (3.63 m)

	Wingspan:      	65' 6" (19.96 m)

	Wing area:	551 sq. ft (51.19 sq. m)

	Empty Weight:  	12,825 lb (5817 kg)

	Max Weight: 	20,500 lb (9299 kg) max at takeoff



Propulsion:

	No. of Engines:	2

	Powerplant:    	Wright R-1820-87 Cyclone 9 radial

	Horsepower:	1200 hp each



Performance:

	Range:		1550 miles (2494 km)

	Cruise Speed:   205 mph ( 330 km/h)

	Max Speed:      253 mph ( 407 km/h) at 15,000 ft

	Ceiling:       	26,500 ft (8075 m)



If this page does not have a navigational frame on the left, click HERE to see the rest of the website.