Sikorsky JRS-1
---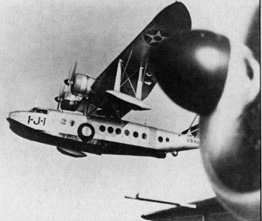 In 1935 Sikorsky produced a 15 passenger flying boat called the S-43, which soon went into service with a number of civilian airlines. The U.S. Navy/Marines acquired 17 of these flying boats under the designation JRS-1, and the USAAC acquired 6 examples (most under the designation Y1OA-8). All of the Army, Navy, and Marine aircraft remained in service throughout World War II.
Additional information on this aircraft can be found at Wikipedia here.
(updated February 2009)

Sikorsky JRS-1

Type:		utility transport amphibian flying boat
Crew:		3-4, with 15 passengers
Armament:	none

Specifications:
	Length:        	51' 2" (15.60 m)
	Height:        	17' 8" (5.38 m)
	Wingspan:      	86' 0" (26.21 m)
	Wing area:	780.6 sq. ft (72.52 sq. m)
	Empty Weight:  	12,750 lb (5783 kg)
	Max Weight: 	19,096 lb (8662 kg) max at takeoff

Propulsion:
	No. of Engines:	2
	Powerplant:    	Pratt & Whitney R-1690-52 Hornet radial
	Horsepower:	750 hp each

Performance:
	Range:		775 miles (1247 km)
	Cruise Speed:   166 mph ( 267 km/h) at 7000 ft
	Max Speed:      190 mph ( 306 km/h) at 7000 ft
	Ceiling:       	20,700 ft (6310 m)


If this page does not have a navigational frame on the left, click HERE to see the rest of the website.