Bell P-63 Kingcobra
---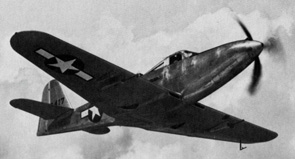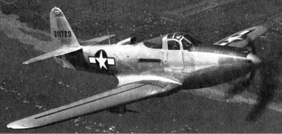 During the development of the Bell P-39 Airacobra it was decided to build a larger and more powerful version for use in a close-support fighter-bomber role. The result was the P-63 Kingcobra, which was similar in layout to the P-39, but it was larger, had a more powerful engine, and had a different tail design. Initial deliveries began in October 1943, and by the time production ended in 1945 more than 3,300 Kingcobras had been built in several versions. The great majority (more than 2,400) were supplied to the USSR under the Lend-Lease program, and about 300 went to the Free French. Very few of the P-63s were delivered to the USAAF, and it is believed that none were used operationally by that service.
For more data on this aircraft, click here for Joe Baugher's webpage.
USAF archives on this aircraft, click here.
Additional information on this aircraft can be found at Wikipedia here.
To see books about this aircraft on Amazon.com, click here.
(updated February 2009)

Bell P-63 Kingcobra
Type:           close-support fighter/fighter-bomber
Crew:           1, Pilot
Armament:       one 37mm M4 cannon,
                four .50 cal machine guns,
                up to three 522 lb. bombs

Specifications:
        Length:         32' 8" (9.96 m)
        Height:         12' 7" (3.84 m)
        Wingspan:       38' 4" (11.68 m)
        Wing area:      248  sq. ft (23.04 sq. m)
        Empty Weight:   6375 lbs (2892 kg)
        Takeoff Weight: 10,500 lbs (4763 kg) maximum

Propulsion:
        No. of Engines: 1
        Powerplant:     Allison V-1710-93 inline
        Horsepower:     1325 hp

Performance:
        Range:          450 miles (724 km) w/ weapons
        Max Speed:      410 mph (660 km/hr)
        Ceiling:        43,000 ft (13,110 m)
---
CLICK HERE TO SEE BOOKS ON THE KINGCOBRA ON AMAZON.COM
If this page does not have a navigational frame on the left, click HERE to see the rest of the website.