Interstate L-6 Grasshopper
---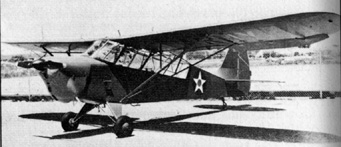 Originally designated the O-63, the L-6 was one of several liason aircraft named "Grasshopper" by the USAAC. Approximately 250 examples of the L-3 were manufactured, and they served in a variety of liason roles. While it was produced in fewer numbers than the other types of "Grasshoppers", a number were also built for the civilian market.
Additional information on this aircraft can be found at Wikipedia here.
(updated February 2009)



Interstate L-6 Grasshopper

Type:		observation and liason aircraft
Crew:		2
Armament:	none

Specifications:
	Length:        	23' 5.5" (7.15 m)
	Height:        	7' 0" (2.13 m)
	Wingspan:      	35' 6" (10.82 m)
	Wing area:	173.8 sq. ft (16.15 sq. m)
	Empty Weight:  	1103 lb (500 kg)
	Max Weight: 	1650 lb (748 kg) max at takeoff

Propulsion:
	No. of Engines:	1
	Powerplant:    	Franklin O-200-5 inline
	Horsepower:	102 hp

Performance:
	Range:		540 miles (869 km)
	Cruise Speed:   105 mph ( 169 km/h)
	Max Speed:      114 mph ( 183 km/h) at 5500 ft
	Ceiling:       	16,500 ft (1530 m)


If this page does not have a navigational frame on the left, click HERE to see the rest of the website.