Lockheed Model 12-A
(also: C-40, JO)
---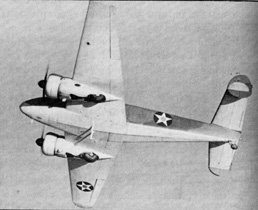 In 1935, after the success of the Model 10 Electra, Lockheed set out to design a similar, but smaller, twin-engined aircraft. The resultant Model 12 was one of the first aircraft intended for business use, seating six passengers in a well-furnished cabin. A total of 114 were built before production ceased in 1942. The U.S. military also acquired a number of Model 12-As for transport duty, these being designated JO-1 and JO-2s for the U.S. Navy and Marines, and C-40s & UC-40s for the U.S. Army Air Corps. Military Model 12s were initially built in a seven-seat configuration. Sixteen armed versions (with two .50 caliber machine guns and underwing bomb racks) were also ordered by the Netherlands.
USAF archives on the C-40, click here.
Additional information on this aircraft can be found at Wikipedia here.
(updated February 2009)

Lockheed Model 12-A
Type:		light transport/gunnery trainer
Crew:		6-7
Armament:	two 0.50 inch machine guns
		up to 2,000 lbs. of bombs

Specifications:
	Length:        	36' 4" (11.07 m)
	Height:        	9' 9" (2.97 m)
	Wingspan:      	49' 6" (15.09 m)
	Wing area:	352 sq. ft (32.70 sq. m)
	Empty Weight:  	5960 lb (2703 kg)
	Max Weight: 	9200 lb (4173 kg) max at takeoff

Propulsion:
	No. of Engines:	2
	Powerplant:    	Pratt & Whitney R-985-SB Wasp Junior radial
	Horsepower:	450 hp

Performance:
	Range:		800 miles (1287 km)
	Cruise Speed:   212 mph ( 341 km/h)
	Max Speed:      225 mph ( 362 km/h)
	Ceiling:       	22,900 ft (6980 m)


If this page does not have a navigational frame on the left, click HERE to see the rest of the website.