Lockheed Model 18 Lodestar
(also: C-56, C-57, C-59, C-60, R5O)
---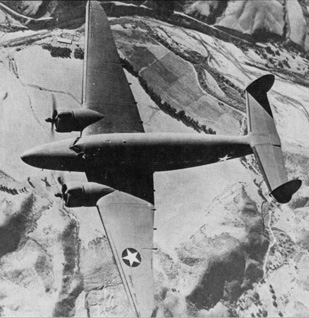 Last in the line of twin-engined commercial transports, the Model 18 Lodestar was first flown in September 1939. In 1940 the U.S. Navy acquired 3 examples (as R5O-1s), and the Coast Guard acquired one. Twelve R5O-4s, 41 R5O-5s, and 35 R5O-6s were also later acquired (as executive transports, personnel transports, and troop carriers, respectively). These were used by the Marines as well as the Navy. The USAAC began acquiring examples in 1941, designating them the C-56, C-57 and C-60, with some of the Model 18s being impressed from civilian service.
Additional information on this aircraft can be found at Wikipedia here.
(updated February 2009)



Lockheed Model 18 Lodestar

Type:		personnel and cargo transport
Crew:		3, plus 14-17 passengers
Armament:	none

Specifications:
	Length:        	49' 10 (15.19 m)
	Height:        	11' 1" (3.38 m)
	Wingspan:      	65' 6" (19.96 m)
	Wing area:	550 sq. ft (51.10 sq. m)
	Empty Weight:  	11,650 lb (5284 kg)
	Max Weight: 	17,500 lb (7938 kg) max at takeoff

Propulsion:
	No. of Engines:	2
	Powerplant:    	Wright R-1820-71 radial
	Horsepower:	1200 hp each

Performance:
	Range:		1600 miles (2575 km)
	Cruise Speed:   200 mph ( 322 km/h)
	Max Speed:      253 mph ( 407 km/h)
	Ceiling:       	23,300 ft (7100 m)


If this page does not have a navigational frame on the left, click HERE to see the rest of the website.