Martin JRM Mars
---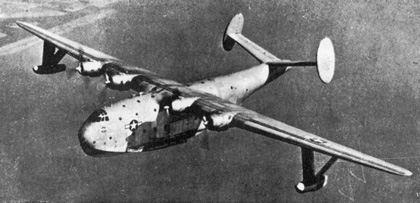 XPB2M-1R


JRM-2
In 1938 the Martin JRM Mars was developed to be a long-range patrol bomber, but by the time of the prototype (designated the XPB2M-1) made its first flight in 1943, its role and designation had been changed to that of a transport. At the time the Mars was built it was the world's largest flying boat, though only six examples were ever built. The first JRM-1 crashed on its maiden flight in July 1945, though the other five continued to serve until they were withdrawn in November 1956. In 1959 the largest flying boats to have ever served with the U.S. Navy were all sold to Canada for use as fire-fighting water bombers, where some still remain in use some forty years later.
For more photos, history, and info on this aircraft, see the JRM webpage at vpnavy.com
Additional information on this aircraft can be found at Wikipedia here.
(updated February 2009)


Martin JRM Mars
Type:		long range passenger/cargo flying boat
Crew:		7
Armament: 	none
	Length:        	117' 3" (35.74 m)
	Height:        	38' 5" (11.71 m)
	Wingspan:      	200' 0" (60.96 m)
	Wing area:	3683 sq. ft (342.15 sq. m)
	Empty Weight:  	75,573 lb (34,279 kg)
	Max Weight: 	165,000 lb (74,843 kg) max at takeoff

Propulsion:
	No. of Engines:	4
	Powerplant:    	Wright R-3350-18 Duplex Cyclone radial
	Horsepower:	2200 hp each

Performance:
	Range:		4945 miles (7958 km)
	Cruise Speed:   149 mph ( 240 km/h)
	Max Speed:      221 mph ( 356 km/h) at 4500 ft
	Ceiling:       	14,600 ft (4450 m)

Specifications:


If this page does not have a navigational frame on the left, click HERE to see the rest of the website.