Spartan NP-1
---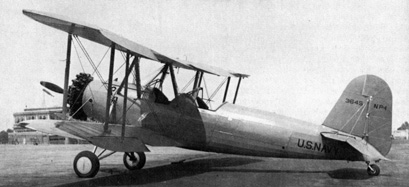 In early 1940 the U.S. Navy advised manufacturers of a requirement for two-seat primary trainer of biplane configuration. A proposal from the Spartan Aircraft Company, based on the company's 1927 open-cockpit biplane, was selected by the U.S. Navy. A contract for one prototype (XNP-1) and 200 later production aircraft was awarded. It was the first military aircraft to be produced by Spartan. The NP-1 was used to equip the newly established U.S. Naval Reserve primary flying training schools in Atlanta, Dallas, and New Orleans, where they continued to serve for many years.
Additional information on this aircraft can be found at Wikipedia here.
(updated February 2009)



Spartan NP-1

Type:		primary trainer
Crew:		2
Armament:	none

Specifications:
	Length:        	24' 2.75" (7.39 m)
	Height:        	8' 4" (2.54 m)
	Wingspan:      	33' 8.5" (10.27 m)
	Wing area:	301.3 sq. ft (27.99 sq. m)
	Empty Weight:  	2069 lb (938 kg)
	Max Weight: 	2775 lb (1259 kg) max at takeoff

Propulsion:
	No. of Engines:	1
	Powerplant:    	Lycoming R-680-8 radial
	Horsepower:	220 hp

Performance:
	Range:		315 miles (507 km)
	Cruise Speed:   90 mph ( 145 km/h)
	Max Speed:      108 mph ( 174 km/h)
	Ceiling:       	13,200 ft (4025 m)


If this page does not have a navigational frame on the left, click HERE to see the rest of the website.