Curtiss O-52 Owl
---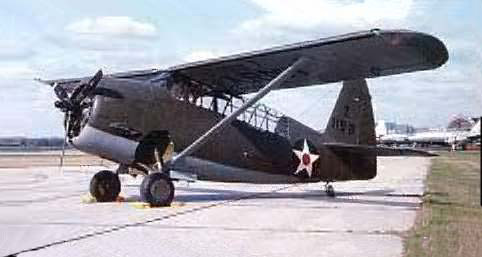 In the 1930s the US Army notified Curtiss Wright of its requirements for a two-seat observation aircraft. As a result Curtiss designed their Model 85 aircraft, which showed that efforts had clearly been made to confer good low-speed manoeuverability and landing characteristics. Ordered into production in 1939, some 203 Owls were built for the US Army under the designation O-52, with deliveries beginning in 1940. None, however, were used in first-line service, all being directed for use in training roles.
Additional information on this aircraft can be found at Wikipedia here.
(updated February 2009)

Curtiss O-52 Owl

Type:		observation aircraft
Crew:		2: Pilot, observer/gunner
Armament: 	one .30 cal forward firing machine gun
		one .30 cal rear firing machine gun

Specifications:
	Length:        	26' 4" (8.03 m)
	Height:        	9' 3.25" (2.83 m)
	Wingspan:      	40' 9.5" (12.43 m)
	Wing area:	210.4 sq. ft (19.55 sq. m)
	Empty Weight:  	4231 lb (1919 kg)
	Max Weight: 	5364 lb (2433 kg) max at takeoff

Propulsion:
	No. of Engines:	1
	Powerplant:    	Pratt & Whitney R-1340-51 Wasp radial
	Horsepower:	600 hp

Performance:
	Range:		700 miles (1127 km)
	Cruise Speed:   192 mph ( 309 km/h)
	Max Speed:      220 mph ( 354 km/h)
	Ceiling:       	21,000 ft (6400 m)


If this page does not have a navigational frame on the left, click HERE to see the rest of the website.