Boeing P-26 Peashooter
---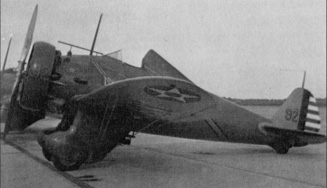 The P-26 was a company-funded fighter design whose development began in September 1931. Like many other aircraft of the early thirties, the P-26 had an open cockpit, fixed landing gear, and externally braced wings. Destined to become the USAAC's first monoplane fighter, as well as the first all-metal production aircraft to serve with the USAAC, the Army eventually ordered 174 examples of the small fighter. Although the P-26 had been retired from front-line service by the time the U.S. entered the war, P-26s were stationed at Pearl Harbor and in the Phillipines (with the Phillipine Air Force) when the Japanese attacked in December 1941.
For more data on this aircraft, click here for Joe Baugher's webpage.
USAF archives on this aircraft, click here.
Click HERE to see a book on this aircraft on Amazon.com
Additional information on this aircraft can be found at Wikipedia here.
(updated February 2009)

Boeing P-26 Peashooter
Type:           single seat fighter
Crew:           1: Pilot
Armament:       two .50 inch machine guns
                or one .50 inch and one .30 inch machine gun

Specifications:
        Length:         23' 7.25" (7.19 m)
        Height:         10' 0.5" (3.06 m)
        Wingspan:       27' 11.5" (8.52 m)
        Wing area:      149.5 sq. ft (13.89 sq. m)
        Empty Weight:   2197 lb (997 kg)
        Max Weight:     2955 lb (1340 kg) max at takeoff

Propulsion:
        No. of Engines: 1
        Powerplant:     Pratt & Whitney R-1340-27 radial
        Horsepower:     500 hp

Performance:
        Range:          360 miles (579 km)
        Cruise Speed:   199 mph ( 320 km/h)
        Max Speed:      234 mph ( 377 km/h) at 7500 ft
        Ceiling:        27,400 ft (8350 m)


If this page does not have a navigational frame on the left, click HERE to see the rest of the website.