Republic (Seversky) P-35A "Guardsman"
---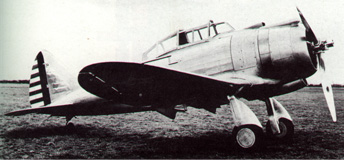 In 1935 the USAAC began a series of design competitions in order to procure an advanced monoplane fighter. An aircraft designed as a private venture by the Seversky Aircraft Corporation was entered into the competition, but after an accident the aircraft was redesigned with retractable landing gear and a more powerful engine. This version impressed the USAAC enough that they ordered 77 examples, and designated them the P-35. P-35s began to enter service in July 1937, with 76 of them being delivered by August 1938. In 1939 Seversky changed its name to Republic Aviation, and began producing an export version of the P-35 that had a more powerful engine and two additional machine guns. All 60 of these aircraft were meant for Sweden, but in October 1940 they were all requisitioned by the U.S. government and given the designation P-35A. In 1941 48 of the P-35As were sent to the U.S. bases in the Phillipines, but after the Japanese attacks on December 7-8 only eight were left flyable. The twelve P-35As which remained in the U.S. were later supplied to Ecuador.
For more data on this aircraft, click here for Joe Baugher's webpage.
USAF archives on this aircraft, click here.
Additional information on this aircraft can be found at Wikipedia here.
Click HERE to see a book on this aircraft on Amazon.com
(updated February 2009)

Republic P-35A "Guardsman"
Type:           single seat fighter
Crew:           1: Pilot
Armament:       two .30 cal machine guns
                two .50 cal machine guns
                up to 350 lbs. of bombs

Specifications:
        Length:         26' 10" (8.18 m)
        Height:         9' 9" (2.97 m)
        Wingspan:       36' 0" (10.97 m)
        Wing area:      220 sq. ft (20.44 sq. m)
        Empty Weight:   4575 lb (2075 kg)
        Max Weight:     6723 lb (3050 kg) max at takeoff

Propulsion:
        No. of Engines: 1
        Powerplant:     Pratt & Whitney R-1830-45 Twin Wasp radial
        Horsepower:     1050 hp

Performance:
        Range:          950 miles (1529 km)
        Cruise Speed:   260 mph ( 418 km/h)
        Max Speed:      310 mph ( 499 km/h) at 14300 ft
        Ceiling:        31,400 ft (9570 m)


If this page does not have a navigational frame on the left, click HERE to see the rest of the website.