North American P-64 / NA-50A / NA-68
---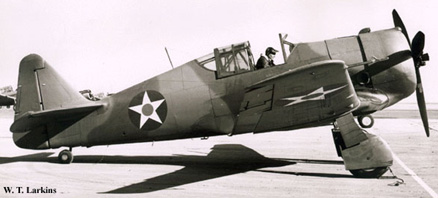 The P-64 was the last version of a line of aircraft that included the BT-9/-14 trainer and the AT-6/SNJ Texan two-seat trainers. The single-seat members of this family were developed as lightweight fighters intended for export. The first in this series was the NA-50A, of which seven were delivered to the Peruvian Air Force in 1939. This was followed by an order for six generally similar aircraft for the Royal Thai Air Force. These were designated NA-68, and were completed and in route to Thailand when Pearl Harbor was attacked. The six NA-68s were seized in Hawaii by the US authorities (Thailand was by now occupied by the Japan), and returned to the United States. Re-designated the P-64, their 20-mm cannon were removed, and they entered service in the USAAC in the advanced trainer role.
For more data on this aircraft, click here for Joe Baugher's webpage.
USAF archives on this aircraft, click here.
Additional information on this aircraft can be found at Wikipedia here.
(updated February 2009)

North American P-64

Type:           Fighter-bomber
Crew:           1, Pilot
Armament:       two .30 cal machine guns
                two 20mm cannon
                optionally up to 400 lbs. of bombs externally

Specifications:
        Length:         27' 0" (8.23 m)
        Height:         9' 4" (2.84 m)
        Wing span:      37' 3" (11.35 m)
        Wing area:      227.5  sq. ft (21.13 sq. m)
        Empty Weight:   4660 lbs (2114 kg)
        Max Weight:     6800 lbs (3084 kg) maximum at takeoff

Propulsion:
        No. of Engines: 1
        Powerplant:     Wright R-1820-77 Cyclone 9 radial
        Horsepower:     870 hp

Performance:
        Range:          635 miles (1022 km)
        Max Speed:      270 mph (435 km/hr)
        Ceiling:        27500 ft (8380 m)

If this page does not have a navigational frame on the left, click HERE to see the rest of the website.