McDonnell FD/FH Phantom
---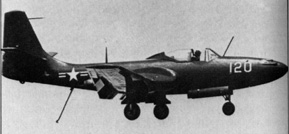 McDonnell received a U.S. Navy contract to produce a fighter to be powered by turbojet engines that were then in development. Three prototypes were ordered in August 1943, with the first flight being made in January 1945. Successful testing resulted in 100 production aircraft being ordered, but war-end cancellations resulted in only 60 being built during 1947-48. The Phantom's service life was short, as it was soon replaced by more advanced aircraft. However, it was the first US pure jet to operate on an aircraft carrier, and the first jet to serve with the U.S. Navy and the U.S. Marines.
Additional information on this aircraft can be found at Wikipedia here.
(updated February 2009)

McDonnell FD/FH Phantom

Type:		single-seat carrier-based jet fighter
Crew:		1
Armament:	four .50 cal machine guns in nose

Specifications:
	Length:        	38' 9" (11.81 m)
	Height:        	14' 2" (4.32 m)
	Wingspan:      	40' 9" (12.42 m)
	Wing area:	276 sq. ft (25.64 sq. m)
	Empty Weight:  	6683 lb (3031 kg)
	Max Weight: 	12,035 lb (5459 kg) max at takeoff

Propulsion:
	No. of Engines:	2
	Powerplant:    	Westinghouse J30-WE-20 turbojet
	Horsepower:	1600 lb. thrust each

Performance:
	Range:		980 miles (1577 km)
	Cruise Speed:   284 mph ( 399 km/h)
	Max Speed:      479 mph ( 771 km/h) at sea level
	Ceiling:       	41,100 ft (12,525 m)


If this page does not have a navigational frame on the left, click HERE to see the rest of the website.