Consolidated PB4Y Privateer
---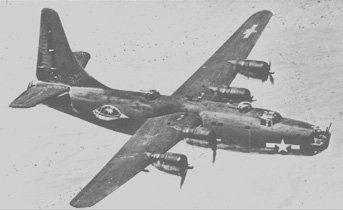 The PB4Y-2 Privateer was designed for a 1943 U.S. Navy contract to develop a naval variation of the B-24 Liberator. It was distinguished from the B-24 by having a new tail unit (with a tall single tail fin and rudder), a lengthened forward fuselage, changes in armament (two Martin dorsal turrets, an Erco nose ball turret and Erco two-gun 'teardrop' blisters on each side of the fuselage), and different engines (which had round instead of oval cowlings). The Privateer survived long after WWII, seeing service in the Korea. A few examples still remain in use today as fire-fighting bombers.
For more data on this aircraft, click here for Joe Baugher's webpage.
Click here to visit the website for Navy Liberators and Privateers.
For more photos, history, and info on this aircraft, see the PB4Y webpage at vpnavy.com
Additional information on this aircraft can be found at Wikipedia here.
To see books on the Privateer, see the bottom of this page.
(updated February 2009)

Consolidated PB4Y-2 Privateer
Type:		land-based maritime patrol bomber
Crew:
Armament: 	twelve .50 cal machine guns
		up to 12,800 lbs. of bombs

Specifications:
	Length:        	74' 7" (22.73 m)
	Height:        	30' 1" (9.17 m)
	Wingspan:      	110' 0" (93.53 m)
	Wing area:	1048 sq. ft (97.36 sq. m)
	Empty Weight:  	37,485 lb (17,003 kg)
	Max Weight: 	65,000 lb (? kg) max at takeoff

Propulsion:
	No. of Engines:	4
	Powerplant:    	Pratt & Whitney R-1830-94 Twin Wasp radial
	Powerplant:    	Wright R-1860-52 Cyclone radial
	Horsepower:	1350 hp each

Performance:
	Range:		2800 miles (4506 km)
	Cruise Speed:   140 mph ( 225 km/h)
	Max Speed:      237 mph ( 381 km/h) at 13,750 ft
	Ceiling:       	20,700 ft (6310 m)
(go to Consolidated page)
---
For additional information on this aircraft read these books:
(click on the book for more information on each title)

Click on the links above to purchase these books on Amazon.com

If this page does not have a navigational frame on the left, click HERE to see the rest of the website.