St. Louis PT-15
---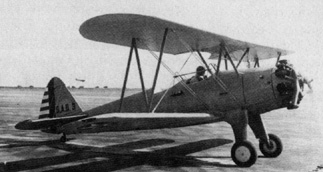 After being pared down in size during the non-war years following the First World War, the Army Air Corps found itself lacking great numbers of aircraft as the war clouds stirred again in 1939. Realizing that a new war would require training mass numbers of new pilots, the USAAC began to look for trainers of various types. During one of the many prototype competitiions for primary trainers that were held in 1939-1940, the St. Louis Model PT-1W biplane trainer (which had been built for the civilian market) was entered. The USAAC was soon interested in the design which, while not exactly as great a performer as hoped, was already currently available, and therefore could be obtained immediately. This was seen as preferable to waiting for a new design to be developed and tested. The St. Louis trainer was given the designation XPT-15, and a follow-up order was given for 13 YPT-15 pre-production aircraft. All of the trainers were delivered in 1940, and though used in the primary training role they were viewed as 'stop gaps' until aircraft procured to US Army specification became available, and no further orders ensued.
(updated February 2009)

St. Louis PT-15

Type:		primary trainer
Crew:		2
Armament:	none

Specifications:
	Length:        	33' 1" (10.31 m)
	Height:        	15' 1" (4.61 m)
	Wingspan:      	35' 11" (10.95 m)
	Wing area:	262 sq. ft (24.34 sq. m)
	Empty Weight:  	4123 lb (1870 kg)
	Max Weight: 	6000 lb (2722 kg) max at takeoff

Propulsion:
	No. of Engines:	1
	Powerplant:    	Pratt & Whitney R-985-AN-2 Wasp radial
	Powerplant:    	Wright R-1860-52 Cyclone radial
	Horsepower:	450 hp

Performance:
	Range:		805 miles (1296 km)
	Cruise Speed:   119 mph ( 292 km/h)
	Max Speed:      164 mph ( 264 km/h) at 5500 ft
	Ceiling:       	13,000 ft (3960 m)


If this page does not have a navigational frame on the left, click HERE to see the rest of the website.