Sikorsky R-4 / HNS-1
---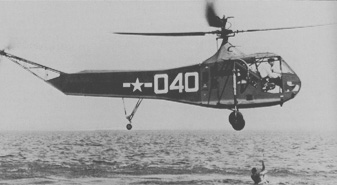 In the spring of 1941 a prototype helicopter designed by Igor Sikorsky was performing well enough to warrant a contract being awarded to the Vought-Sikorsky division of United Aircraft for the development of a two-seat version, designated the XR-4. The first flight of the new helicopter was made in January 1942, and 130 production examples were soon produced. The R-4 recorded two firsts: it accomplished the first helicopter landing aboard a ship, and the first rescue by a helicopter. Twenty-five R-4s (under the designation HNS-1) were operated by the U.S. Navy and U.S. Coast Guard, and 52 R-4s were operated by the British (under the designation Hoverfly I).
Additional information on this aircraft can be found at Wikipedia here.
(updated February 2009)

Sikorsky R-4 / HNS-1

Type:		two-seat training and rescue helicopter
Crew:		2
Armament:	none

Specifications:
	Length:        	48' 2" (14.68 m)
	Height:        	12' 5" (3.78 m)
	Empty Weight:  	2020 lb (916 kg)
	Max Weight: 	2535 lb (1150 kg) max at takeoff

Propulsion:
	No. of Engines:	1
	Powerplant:    	Warner R-550-1 radial
	Horsepower:	180 hp

Performance:
	Range:		130 miles (209 km)
	Cruise Speed:   N/A
	Max Speed:      75 mph ( 121 km/h)
	Ceiling:       	8,000 ft (2440 m)


If this page does not have a navigational frame on the left, click HERE to see the rest of the website.