Sikorsky R-5 / HO2S-1 / HO3S
---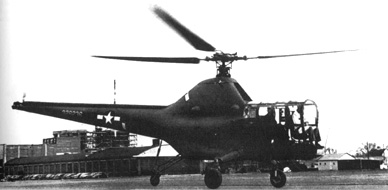 The second helicopter designed by Igor Sikorsky for the military was the two-seat R-5. Various versions were developed, with about 65 examples total being produced for the USAAF, U.S. Navy, and U.S. Coast Guard. The first two examples tested by the Navy were designated HO2S-1, while the remainder of the Navy/Coast Guard R-5 derivations were called the HO3S-1. A four-seat version known as the S-51 was produced for the civilian markets, and many of these were used by the U.S. armed forces as well.
Additional information on this aircraft can be found at Wikipedia here.
(updated February 2009)

Sikorsky R-5B

Type:		two/four-seat rescue helicopter
Crew:		2
Armament:	none

Specifications:
	Length:        	57' 1" (17.40 m)
	Height:        	13' 0" (3.96 m)
	Empty Weight:  	3780 lb (1715 kg)
	Max Weight: 	4825 lb (2189 kg) max at takeoff

Propulsion:
	No. of Engines:	1
	Powerplant:    	Pratt & Whitney R-985-AN-5 radial
	Horsepower:	450 hp

Performance:
	Range:		360 miles (579 km)
	Cruise Speed:   85 mph (137 km/h)
	Max Speed:      106 mph (171 km/h)
	Ceiling:       	14,400 ft (4390 m)


If this page does not have a navigational frame on the left, click HERE to see the rest of the website.