Ryan PT-16,PT-20,PT-21,PT-22 Recruit
---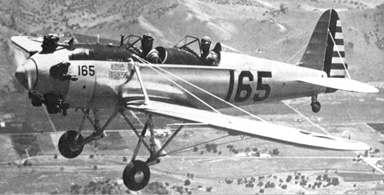 In 1934 Ryan Aircraft developed a training aircraft known as the S-T-A, and an example of this was delivered to the USAAC in 1939 under the designation XPT-16. This was the first primary training monoplane acquired by the USAAC; all previous types had been biplanes. 15 more PT-16s were acquired for testing, followed by a production order for 30 more in 1940, which were given the designation PT-20. The PT-20 was similar to the PT-16, with the exception of minor structural changes. During 1941 100 more examples were ordered with a more powerful engine, and were designated PT-21. The PT-21 was easily identified by its new streamlined nose fairing, through which the 5 engine cylinders protruded. Later in 1941 the need for trainers became more pressing, and 1,023 examples were ordered, this time under the designation PT-22 Recruit. The PT-22 was similar to the PT-21, but the PT-22 received a more powerful engine, and had the wheel spats and main landing gear fairings removed. The U.S. also used a version of the Recruit, when in 1940 they ordered 100 examples, to be designated the NR-1. The NR-1s remained in service until mid-1944.
Additional information on this aircraft can be found at Wikipedia here.
(updated February 2009)

Ryan PT-22 Recruit

Type:           two-seat primary trainer
Crew:           2
Armament:       none

Specifications:
        Length:         22' 5" (6.83 m)
        Height:         6' 10" (2.08 m)
        Wingspan:       30' 1" (9.17 m)
        Wing area:      134.25 sq. ft (12.47 sq. m)
        Empty Weight:   1313 lb (596 kg)
        Max Weight:     1860 lb (844 kg) max at takeoff

Propulsion:
        No. of Engines: 1
        Powerplant:     Kinner R-540-1 radial
        Horsepower:     160 hp

Performance:
        Range:          352 miles (566 km)
        Cruise Speed:   123 mph ( 198 km/h)
        Max Speed:      131 mph ( 211 km/h)
        Ceiling:        15,500 ft (4725 m)


If this page does not have a navigational frame on the left, click HERE to see the rest of the website.