Stinson Reliant / UC-81
---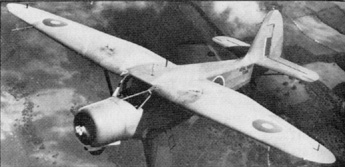 The Stinson Reliant was designed as a civilian aircraft in the 1930s, with eight different versions available by 1939. Production of the Reliant ceased on the USA's entry into the war, but a number of civil machines were impressed into military service, where they received the designation UC-81. Production was resumed on the Reliant for the purpose of providing the British with 500 examples for the Royal Navy under Lend-Lease agreements.
Additional information on this aircraft can be found at Wikipedia here.
(updated February 2009)
Stinson Reliant / UC-81 / AT-19

Type:		navigation/radio trainer/communications a/c
Crew:		4
Armament:	none

Specifications:
	Length:        	30' 0" (9.14 m)
	Height:        	8' 7" (2.62 m)
	Wingspan:      	41' 10.5" (12.76 m)
	Wing area:	258.5 sq. ft (24.01 sq. m)
	Empty Weight:  	2810 lb (1275 kg)
	Max Weight: 	4000 lb (1814 kg) max at takeoff

Propulsion:
	No. of Engines:	1
	Powerplant:    	Lycoming R-680 radial
	Horsepower:	290 hp

Performance:
	Range:		810 miles (1313 km)
	Cruise Speed:   130 mph ( 209 km/h)
	Max Speed:      141 mph ( 227 km/h)
	Ceiling:       	14,000 ft (4265 m)


If this page does not have a navigational frame on the left, click HERE to see the rest of the website.