Brewster SBA/SBN
---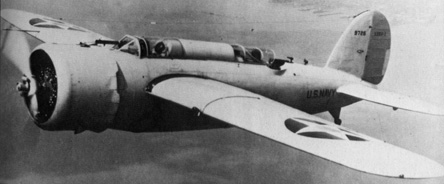 SBA


SBN
Designed by Brewster as the SBA scout bomber, it was produced by the Naval Aircraft Factory as the SBN. 30 examples were ordered, but with more advanced aircraft becoming available, most were used as trainers.
Additional information on this aircraft can be found at Wikipedia here.
(updated February 2009)


Brewster SBA/SBN

Type:		carrier-based scout bomber/trainer
Crew:		2
Armament:	one 0.30 inch machine gun in rear cockpit
		up to 500 lbs. of bombs

Specifications:
	Length:        	27' 8" (8.43 m)
	Height:        	8' 7" (2.64 m)
	Wingspan:      	39' 0" (11.89 m)
	Wing area:	259 sq. ft (24.06 sq. m)
	Max Weight: 	6759 lb (3066 kg) max at takeoff

Propulsion:
	No. of Engines:	1
	Powerplant:    	Wright XR-1820-22 Cyclone radial
	Horsepower:	950 hp

Performance:
	Range:		1015 miles (1633 km)
	Max Speed:      254 mph ( 409 km/h)
	Ceiling:       	28,300 ft (8625 m)


If this page does not have a navigational frame on the left, click HERE to see the rest of the website.