Boeing XPBB-1 Sea Ranger
---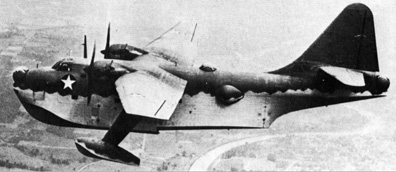 The frequent appearance of German U-Boats close to U.S. coastal waters made the U.S. Navy aware that it needed a long-range maritime patrol aircraft. Because Boeing had considerable experience with flying boats (the most famous being the Boeing 314-A "Clipper" used by Pan Am Airways), the Navy approached Boeing about designing a suitable aircraft for its purposes. In June 1940 a contract was awarded for a prototype XPBB-1, with the first flight taking place in July 1942. Unfortunately for Boeing, changing ideas regarding maritime patrol aircraft brought cancellation of the order for the U.S. Navy's XPBB-1 Sea Rangers, and this excellent flying boat never proceeded beyond the prototype stage. The sole example of the Sea Ranger was unofficially given the name "The Lone Ranger".
Additional information on this aircraft can be found at Wikipedia here.
(updated February 2009)

Boeing XPBB-1 Sea Ranger

Type:		long-range maritime patrol/bomber flying boat
Crew:
Armament: 	eight .50 inch machine guns
		up to 20,000 lbs. (9,072 kg) of bombs

Specifications:
	Length:        	94' 9" (28.88 m)
	Height:        	34' 2" (10.41 m)
	Wingspan:      	139' 8.5" (42.58 m)
	Wing area:	1826 sq. ft (169.64 sq. m)
	Empty Weight:  	41,531 lb (18,838 kg)
	Max Weight: 	101,130 lb (45,872 kg) max at takeoff

Propulsion:
	No. of Engines:	2
	Powerplant:    	Wright R-3350-8 Cyclone radial
	Horsepower:	2300 hp each

Performance:
	Range:		6300 miles (10,140 km)
	Max Endurance:	72 hours
	Cruise Speed:   158 mph ( 254 km/h)
	Max Speed:      228 mph ( 367 km/h) at 14,200 ft
	Ceiling:       	22,400 ft (6830 m)


If this page does not have a navigational frame on the left, click HERE to see the rest of the website.