Lockheed P-80 Shooting Star
---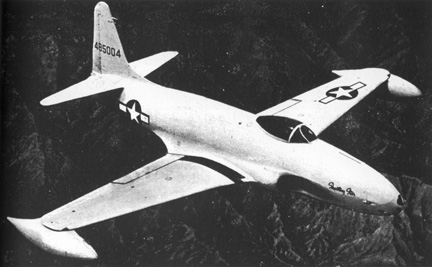 Although the Lockheed P-80 was not the first jet aircraft to enter service with the USAAF (the P-59 Airacomet had that distinction), it was its first operational jet fighter. Design work was begun in 1943 by a team lead by Clarence "Kelly" Johnson (who later went on to design famous aircraft like the SR-71 Blackbird). The first of 13 YP-80s were delivered in October 1944 and shortly before the end of the war in Europe, two of them were assigned in Italy for operational trials. Planned production was for some 5,000 aircraft, but after VJ-Day more than 3,000 were canceled. The remainder went on to help lead the U.S. into the jet age.
For more data on this aircraft, click here for Joe Baugher's webpage.
USAF archives on this aircraft, click here.
Additional information on this aircraft can be found at Wikipedia here.
(updated February 2009)

Lockheed P-80 Shooting Star

Type:           fighter, fighter-bomber, reconnaissance a/c
Crew:           1
Armament:       six .50 cal machine guns
                optional two 1000 lb. bombs

Specifications:
        Length:         34' 6" (10.52 m)
        Height:         11' 4" (3.45 m)
        Wingspan:       39' 11" (12.17 m)
        Wing area:      238 sq. ft (22.11 sq. m)
        Empty Weight:   7920 lb (3592 kg)
        Max Weight:     14,500 lb (6577 kg) max at takeoff

Propulsion:
        No. of Engines: 1
        Powerplant:     General Electric J33-A-11 turbojet
        Horsepower:     4000 lb static thrust

Performance:
        Range:          540 miles (869 km)
        Cruise Speed:   410 mph ( 660 km/h)
        Max Speed:      558 mph ( 898 km/h)
        Ceiling:        45,000 ft (13,715 m)


If this page does not have a navigational frame on the left, click HERE to see the rest of the website.