Douglas AD-1 Skyraider
---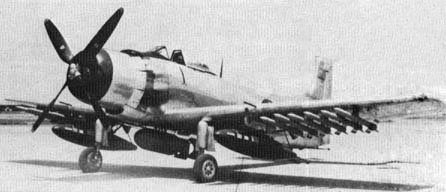 BT2D (Skyraider prototype)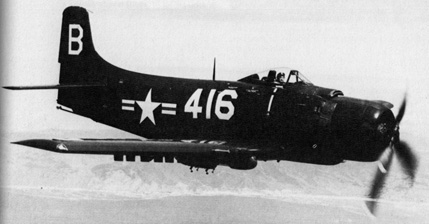 Korean War-vintage Skyraider
The Skyraider was designed to be a replacement for the current naval torpedo/dive bombers that were then in use. It was felt that one aircraft could be designed that would able to fill both of these roles and more, and that reducing the crew to a single pilot would result in weight savings and speed increases, both factors that would enable the aircraft to carry more ordnance more effectively. Though a competing design (the Martin AM-1 Mauler) also attempted to fill the same design spec, the Skyraider was definitely the more successful of the two. However, it was not until the closing months of World War II that the prototype was flown for the first time, on March 18 1945. Although delivery of production aircraft began in June, the type was not used operationally before VJ-Day. After WWII the Skyraider was to become one of the most valuable weapons available to both U.S. Navy and USAF during the Korean and Vietnam wars (some bearing the designation A-1, and the affectionate nickname "Sandy"). In Korea the Skyraider's contribution was sufficient to win a US Navy accolade of "the best and most effective close support airplane in the world"'. Skyraiders remained in production until February 1957, by which time 3,160 had been built.
To see books about this aircraft on Amazon.com, click here.
Additional information on this aircraft can be found at Wikipedia HERE.
(updated February 2009)

Douglas AD-1 Skyraider
Type:		carrier-based attack aircraft
Crew:		1
Armament:	two 20mm cannon
		up to 6000 lbs. of mixed weapons externally

Specifications:
	Length:        	38' 2" (11.63 m)
	Height:        	15' 5" (4.70 m)
	Wingspan:      	50' 0" (15.24 m)
	Wing area:	400 sq. ft (37.16 sq. m)
	Empty Weight:  	10,264 lb (4656 kg)
	Max Weight: 	18,030 lb (8178 kg) max at takeoff

Propulsion:
	No. of Engines:	1
	Powerplant:    	Wright R-3350-24 Cyclone 18 radial
	Horsepower:	2400 hp

Performance:
	Range:		1900 miles (3058 km)
	Cruise Speed:   204 mph ( 328 km/h)
	Max Speed:      366 mph ( 589 km/h) at 13,500 ft
	Ceiling:       	33,000 ft (10,060 m)
---
CLICK HERE TO SEE BOOKS ON THE SKYRAIDER ON AMAZON.COM
If this page does not have a navigational frame on the left, click HERE to see the rest of the website.