Douglas C-47 Skytrain
(also: C-49, C-53, C-84, R4D)
---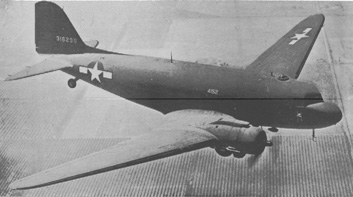 SYNOPSIS: The C-47 Skytrain was the most commonly used transport in the Allied Air Forces and has operated in every theater of war. A version was even built under license by the Japanese (the Showa L2D), as well as by the Russians (the Lisunov Li-2). It was known under different designations (C-47, C-53, R4D) and different names (Skytrain/Skytrooper/Dakota/"Gooney Bird"), and by the civilian designation DC-3. DC-3B's taken over from airlines were given the military designations C-49 or C-84. A special staff transport model was designated C-117, but only seventeen were built. The C-47 was famous for its dependability, versatility, and ability to carry loads far heavier than the official specs allowed. Famous campaigns involving the C-47 were "flying the Hump" (transport over the Himalyas), dropping paratroops behind enemy lines on D-Day, and the post-war Berlin airlift. The C-47 was so useful that it was used by the U.S. military in WWII, Korea, and Vietnam, and many are still flying in different countries around the world today.

LONG HISTORY: for a more detailed history of this aircraft, click HERE.
For additional data and history on the R4D, click here for Jack McKillop's article on Microworks.net
Click here for the C-47 page at warbirdalley.com.
To see books about this aircraft on Amazon.com, click here.
Additional information on this aircraft can be found at Wikipedia here.
(updated February 2009)

Douglas C-47A Skytrain
Type:		Military transport and glider tug
Crew:		3, Pilot, co-pilot, radio operator
Armament: 	none

Specifications:
	Length:		64' 2.5" (19.57 m)
	Height:		16' 11" (5.16 m)
	Wingspan:	95' 0" (28.96 m)
	Wing area:	987 sq. ft (91.69 sq. m)
	Empty Weight: 	16970 lbs (7698 kg)
	Takeoff Weight:	26,000 lbs (11,793 kg) maximum

Propulsion:
	No. of Engines:	2
	Powerplant: 	Pratt & Whitney R-1830-93 Twin Wasp
	Horsepower:	1200 hp each

Performance:
	Range:		1500 miles (2414 km)
	Cruise Speed: 	185 mph (298 km/hr) at 10,000 ft.
	Max Speed:	229 mph (369 km/hr) aat 7,500 ft.
	Climb:		1130 ft/min (345 m/min)
	Ceiling:	23,200 ft (7,070 m)
---
CLICK HERE TO SEE BOOKS ON THE C-47 ON AMAZON.COM
If this page does not have a navigational frame on the left, click HERE to see the rest of the website.