Boeing B-29 Superfortress
---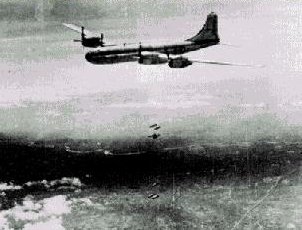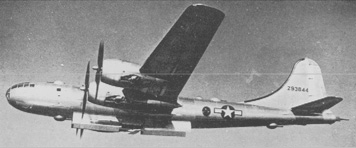 The B-29 Superfortress was used by the 20th Air Force in the Pacific to bomb the Japanese Home Islands. It was a very advanced bomber for its day, with pressurized crew compartments and remote-controlled gun turrets. While envisioned as a high altitude daylight bomber, its greatest successes were low-level nighttime raids dropping incendiary bombs on the combustible Japanese cities. The B-29 is most known for dropping the A-bombs on Hiroshima and Nagasaki, which ended the war.
For more data on this aircraft, click here for Joe Baugher's webpage.
USAF archives on this aircraft, click here.
Additional information on this aircraft can be found at Wikipedia here.
To see books about this aircraft on Amazon.com, click here.
(updated February 2009)

Boeing B-29 Superfortress
Type:           Long-range Strategic Heavy bomber
Crew:           10: Pilot, Co-Pilot, Engineer, Bombardier, Radioman,  5 Gunners
Armament:       eight .50 cal machine guns (two in each of four power turrets)
                three.50 cal machine guns (or two .50 cals and one 20mm cannon) in the tail turret
                up to 20,000 lbs. of bombs

Specifications:
        Length:         99' 0" (30.18 m)
        Height:         29' 7" (9.02 m)
        Wingspan:       141' 3" (43.05 m)
        Weight:         124,000 lb max at takeoff

Propulsion:
        No. of Engines: 4
        Powerplant:     Wright R-3350-23 Cyclone 18
        Horsepower:     2200 hp each

Performance:
        Range:          3250 miles (5230 km)
        Cruise Speed:   230 mph (370 km/h)
        Max Speed:      358 mph (576 km/h)
        Ceiling:        31850 ft (9710 m)
---
CLICK HERE TO SEE BOOKS ON THE B-29 ON AMAZON.COM
If this page does not have a navigational frame on the left, click HERE to see the rest of the website.