Cessna Model AT-17/T-50/UC-78 Bobcat
---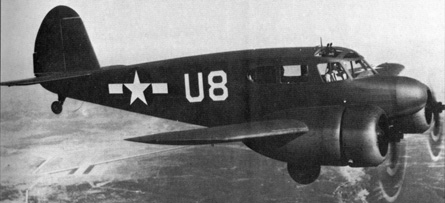 Cessna's first twin-engined lightplane, built and flown in 1939, was a five-seat commercial transport that was typical for its day. Designated the T-50 by Cessna, the aircraft caught the attention of both the Canadian and U.S. Air Forces (USAAC then), with the potential to serve as a trainer for pilots converting from single-engined to twin-engined types. 550 were supplied to Canada (as the Crane 1A) under Lend-Lease, and 33 examples were ordered by the USAAC for service evaluation. The initial production version for the U.S. was designated the AT-17, and approximately 1149 examples were made in several versions. 1287 additional aircraft were ordered in a liason/communication and light personnel version, this being designated the UC-78 Bobcat. Over 2400 UC-78s were made in various versions. In 1942-43 the U.S. Navy also procurred 67 UC-78s for their own use, and these were designated JRC-1s.
Additional information on this aircraft can be found at Wikipedia here.
(updated February 2009)



Cessna UC-78 Bobcat

Type:		trainer/light transport
Crew:		2-5
Armament:	none

Specifications:
	Length:        	32' 9" (9.98 m)
	Height:        	9' 11" (3.02 m)
	Wingspan:      	41' 11" (12.78 m)
	Wing area:	295 sq. ft (27.41 sq. m)
	Empty Weight:  	3500 lb (1588 kg)
	Max Weight: 	5700 lb (2585 kg) max at takeoff

Propulsion:
	No. of Engines:	2
	Powerplant:    	Jacobs R-775-9 radial
	Horsepower:	245 hp each

Performance:
	Range:		750 miles (1207 km)
	Cruise Speed:   175 mph ( 282 km/h)
	Max Speed:      195 mph ( 314 km/h)
	Ceiling:       	22,000 ft (6705 m)


If this page does not have a navigational frame on the left, click HERE to see the rest of the website.