Grumman F7F Tigercat
---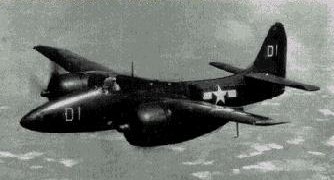 In 1938 the U.S. Navy contracted for the development of a prototype twin-engined carrier-based fighter, designated the XF5-1. While the prototype did not enter production, its evolution and testing gave Grumman valuable experience in this type. In early 1941 Grumman began work on a new twin-engined Navy fighter, designed to have high performance and unprecedented firepower. A contract was awarded in June 1941, with the first flight taking place in December 1943. The new aircraft, known as the F7F Tigercat, featured foldable wings and tricycle landing gear, with four 20mm cannons and four .050 inch machine guns providing an offensive punch. In addition, it could carry either a pair of 1000 pound bombs or a single torpedo. Grumman received a contract for 500 Tigercats, which were to be supplied to the U.S. Marines to provide close-air support for their operations. Unfortunately the production Tigercats materialized too late to see operational service with the USMC before the end of the war. 288 F7Fs (including 64 night fighter versions) were built before the cancellation of remaining orders. Some Marine squadrons continued to use the Tigercat in the postwar years, but they were eventually replaced by jet-powered successors.
Additional information on this aircraft can be found at Wikipedia here.
(updated February 2009)

Grumman F7F-3 Tigercat

Type:           Fighter
Crew:           1, Pilot
Armament:       four 20mm cannon, four .50 cal machine guns, optional torpedo, 1000 lbs. bombs

Specifications
        Length:         45' 4" (13.82 m)
        Height:         16' 7" (5.5 m)
        Wingspan:       51' 6" (1.68 m)
        Wing area:      455 sq. ft (42.27 sq.  m)
        Empty Weight:   16270 lbs (7378 kg)
        Gross Weight:   25720 lbs

Propulsion
        No. of Engines: 2
        Powerplant:     Pratt & Whitney R-2800-34W
        Horsepower:     2100 hp each

Performance
        Range:          1200 miles (1932 km)
        Cruise Speed:   222 mph (357 km/hr)
        Max Speed:      435 mph (700 km/hr)
        Climb:          4530 ft/min (1380.68 m/min)
        Ceiling:        40700 ft (12405 m)


If this page does not have a navigational frame on the left, click HERE to see the rest of the website.