Timm N2T Tutor
---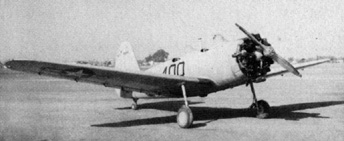 The Timm Aircraft Corporation introduced a method of aircraft construction that involved the use of a plastic-bonded plywood which they themselves had developed. In 1941 they designed a two-seat light aircraft using this material, which came to be known as the S-160-K. The U.S. military took an interest in the aircraft because it used non-conventional materials in its construction. The U.S. Navy tested two aircraft and eventually issued contracts for 260 models that were designated the N2T-1 Tutor. Deliveries of the N2T-1s began in 1943, and they remained in use as primary trainers until towards the end of 1944.
Additional information on this aircraft can be found at Wikipedia here.
(updated February 2009)



Timm N2T Tutor

Type:		primary trainer
Crew:		2
Armament:	none

Specifications:
	Length:        	24' 10" (7.57 m)
	Height:        	10' 8" (3.25 m)
	Wingspan:      	36' 0" (10.97 m)
	Wing area:	185 sq. ft (17.19 sq. m)
	Empty Weight:  	1940 lb (880 kg)
	Max Weight: 	2725 lb (1236 kg) max at takeoff

Propulsion:
	No. of Engines:	1
	Powerplant:    	Continental R-670-4 radial
	Horsepower:	220 hp

Performance:
	Range:		400 miles (644 km)
	Cruise Speed:   124 mph ( 200 km/h)
	Max Speed:      144 mph ( 232 km/h)
	Ceiling:       	16,000 ft (4875 m)


If this page does not have a navigational frame on the left, click HERE to see the rest of the website.