Vultee BT-13/BT-15/SNV Valiant
---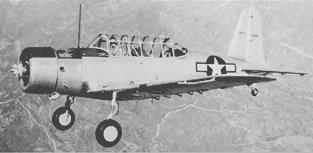 The aircraft that came to be known as the Valiant had the distinction of being produced in greater numbers than all other basic trainers produced in the USA in WWII. In fact, over 11,000 Valiants would be produced for the USAAF and USN in the period 1940-44. Initially referred to as the V-74, the first version for the USAAF was given the designation BT-13, while a later version with a different engine was referred to as the BT-15. The Valiants built for the U.S. Navy were the equivalent of the BT-13, and were called SNV by the Navy.

Additional information on this aircraft can be found at Wikipedia here.
(updated February 2009)


BT-13/BT-15/SNV Valiant

Type:           two-seat basic trainer
Crew:           2
Armament:       none

Specifications:
        Length:         28' 10 (8.79 m)
        Height:         11' 6" (3.51 m)
        Wingspan:       42' 0" (12.80 m)
        Wing area:      239 sq. ft (22.20 sq. m)
        Empty Weight:   3375 lb (1531 kg)
        Max Weight:     4496 lb (2039 kg) max at takeoff

Propulsion (BT-13):
        No. of Engines: 1
        Powerplant:     Pratt & Whitney R-985-AN-1 Junior Wasp radial
        Horsepower:     450 hp

Performance:
        Range:          725 miles (1167 km)
        Cruise Speed:   N/A
        Max Speed:      180 mph ( 290 km/h)
        Ceiling:        21,650 ft (6600 m)


If this page does not have a navigational frame on the left, click HERE to see the rest of the website.