Vultee A-31/A-35 Vengeance
---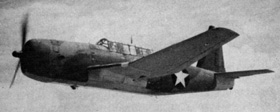 Designed under the designation V-72, the aircraft that would eventually be named Vengeance by the British was developed as a dive bomber by the Vultee Corporation. One of few U.S. military aircraft who's initial development was not aided by government finance, the V-72 was intended for sale to export markets. Large numbers (for the time) were sold to Brazil, China, Turkey, and the USSR during the mid-to-late 1930s. In 1940 the British purchased 700 V-72s (400 of which were manufactured by Northrop), and with the introduction of lend-lease in 1941, the U.S. ordered 300 more examples for the British under the designation A-31. The majority of British Vengeances served in Burma, where they enjoyed considerable success. When the U.S. entered the war, it commandeered 243 of the aircraft meant for Britain, and later had even more Vengeances manufactured for the USAAF under the designation A-35.
USAF archives on this aircraft, click here.
Additional information on this aircraft can be found at Wikipedia here.
(updated February 2009)

Vultee A-35B Vengeance

Type:		two-seat dive bomber
Crew:		2
Armament:	six 0.50 cal machine guns
		up to 2,000 lbs. of bombs

Specifications:
	Length:        	39' 9" (12.12 m)
	Height:        	15' 4" (4.67 m)
	Wingspan:      	48' 0" (14.63 m)
	Wing area:	332 sq. ft (30.84 sq. m)
	Empty Weight:  	10,300 lb (4672 kg)
	Max Weight: 	16,400 lb (7439 kg) max at takeoff

Propulsion:
	No. of Engines:	1
	Powerplant:    	Wright R-2600-13 Cyclone 14 radial
	Horsepower:	1700 hp

Performance:
	Range:		2300 miles (3701 km)
	Cruise Speed:   230 mph ( 370 km/h)
	Max Speed:      279 mph ( 449 km/h) at 13,500 ft
	Ceiling:       	22,300 ft (6800 m)


If this page does not have a navigational frame on the left, click HERE to see the rest of the website.