Vought SB2U Vindicator
---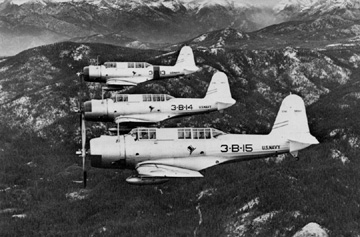 Nearly obsolete at the beginning of World War II, the Vindicator was known more often as the "Vibrator" due to the noise and vibrations that one endured while flying in it. While it was used by the Marines in the battle of Midway, it was soon retired from front-line service because it was too vulnerable to Japanese aircraft such as the Zero.
For additional data and history on the SB2U, click here for Jack McKillop's article on Microworks.net.
Click HERE to see a book on this aircraft on Amazon.com
Additional information on this aircraft can be found at Wikipedia here.
(updated February 2009)

Vought SB2U Vindicator
Type:           Scout Bomber
Crew:           2, Pilot and observer
Armament:       one .50 cal machine gun firing forward,
                one .30 cal machine gun in rear cockpit,
                up to 1000 lbs. of bombs

Specifications:
        Length:         34' (10.36 m)
        Height:         10' 3" (3.12 m)
        Wingspan:       42' (12.80 m)
        Wing area:      305  sq. ft (28.33 sq.  m)
        Empty Weight:   5634 lbs (2555 kg)
        Gross Weight:   9421 lbs (4272 kg)

Propulsion
        No. of Engines: 1
        Powerplant:     Pratt & Whitney R-1535-02
        Horsepower:     825 each

Performance
        Range:          1120 miles (1803 km)
        Cruise Speed:   152 mph (244 km/hr)
        Max Speed:      243 mph (391 km/hr)
        Climb:          1070 ft/min (326.12 m/min)
        Ceiling:        23600 ft (7192.90 m)


If this page does not have a navigational frame on the left, click HERE to see the rest of the website.