Curtiss P-40
Tomahawk, Kittyhawk, Warhawk
---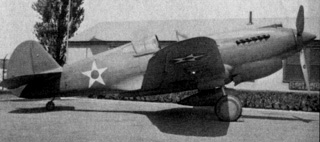 P-40B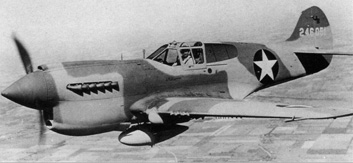 P-40K
The P-40 is best known as the aircraft used by Claire Chennault's American Volunteer Group ("The Flying Tigers"). While not an outstanding fighter, it was well used during the first half of the war (especially in the Pacific theater), until it was replaced by more capable types. Not counting the P-47 or the P-51, it was the most extensively built US fighter, with almost 14,000 units being delivered before production ended in 1944.
For more data on this aircraft, click here for Joe Baugher's webpage.
USAF archives on this aircraft, click here.
Additional information on this aircraft can be found at Wikipedia here.
To see books about this aircraft on Amazon.com, click here.
(updated February 2009)

Curtiss P-40E Kittyhawk
Type:           Fighter
Crew:           1, Pilot
Armament:       six.50 cal machine guns

Specifications:
        Length:         31' 9" (9.68 m)
        Height:         12' 4" (3.76 m)
        Wingspan:       37' 4" (11.38 m)
        Gross Weight:   9100 lbs

Propulsion:
        No. of Engines: 1
        Powerplant:     Allison V-1710
        Horsepower:     1150 each

Performance:
        Range:          850 miles (1368 km)
        Cruise Speed:   235 mph (378 km/h)
        Max Speed:      362 mph (582 km/h)
        Ceiling:        30000 ft (9143.6 m)
---
CLICK HERE TO SEE BOOKS ON THE P-40 ON AMAZON.COM
If this page does not have a navigational frame on the left, click HERE to see the rest of the website.