Boeing XB-15/XC-105
---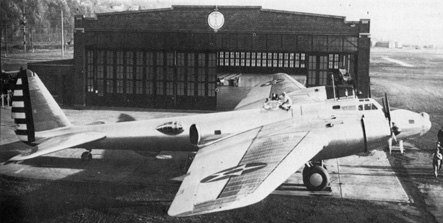 As a bomber the XB-15 failed due to a lack of suitably powerful engines. The prototype was developed into a transport and was flown during the war as the XC-105.
For more data on this aircraft, click here for Joe Baugher's webpage.
USAF archives on this aircraft, click here.
Additional information on this aircraft can be found at Wikipedia here.
(updated February 2009)

Boeing XB-15/XC-105

Type:		long range bomber/transport
Crew:		?
Armament:	none

Specifications:
	Length:        	87' 11" (26.80 m)
	Height:        	18' 0" (5.49 m)
	Wingspan:      	149' 0" (45.42 m)
	Wing area:	N/A
	Empty Weight:  	N/A
	Max Weight: 	92,000 lb (41,731 kg) max at takeoff

Propulsion:
	No. of Engines:	4
	Powerplant:    	Pratt & Whitney Twin Wasp Senior radial
	Horsepower:	1000 hp each

Performance:
	Range:		5130 miles (8256 km)
	Cruise Speed:   N/A
	Max Speed:      195 mph ( 314 km/h)
	Ceiling:       	18,900 ft (5760 m)


If this page does not have a navigational frame on the left, click HERE to see the rest of the website.